Solutions for every library
Since over 30 years Dialoc ID offers library solutions in EM, RFID (HF & UHF) and Hybrid (EM/HF & EM/UHF) technology. Our products are well-known for their excellent performance, reliability and modern design, that fit every library environment. The Dialoc ID products can be found all around the world.
Visit the Dialoc ID Library Solutions website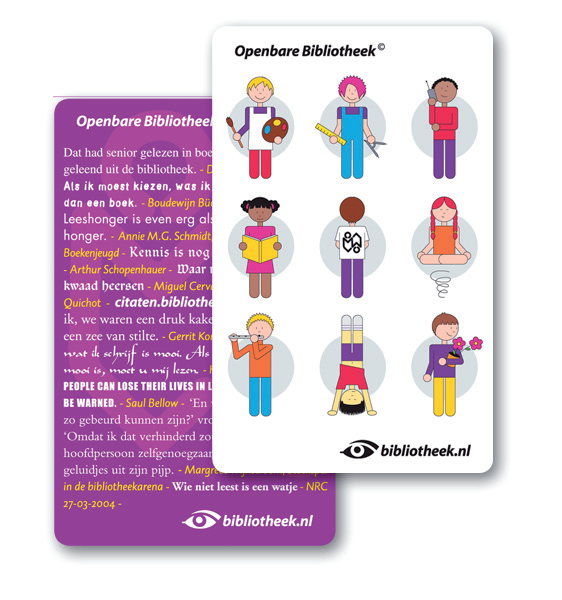 Library cards
The call for libraries to join forces and establish one strong brand as corporate image,  to build a future-proof library and to send a strong signal to the public is very actual. The choice for the development of a National Library Card supports these ideas.
In the very near future the National Library Card members of the Netherlands have  access to all physical and digital collections of all libraries in the Netherlands.
Members can borrow and return anywhere. The National Library Card makes it more  attractive for library use (potential) members and provides space for innovation and (development) of new forms of supply in addition to the traditional lending model.
A National Library Card:
offers besides the lending proposition space for new (physical and digital) propositions and initiatives;
is attractive to customers and responding to changing needs and demands of (potential) customers;
in line with new audiences and generations;
is clear and recognizable;
makes rural marketing possible with a clear proposition and nationwide call to action;
provides space for new revenue models;
strengthens the brand "Library"
Please contact us for information about the supported chips, barcoding, printing,  encoding, data programming possibilities etc.
Self service solutions
The best way to have control over your valuable library materials
Today, self service is crucial in the service of libraries to customers. The self service products of Dialoc ID have an ergonomically and high-tech design that fits perfectly into the logistic process of the library. Their modular construction gives all the flexibility to libraries who want to migrate to different identification technology today and in the future.
Seamless integration of technology
The Dialoc ID self service units are available in different versions: EM (Electromagnetic), RFID (HF) and Hybrid EM/HF when both technologies are used. The 22″ HD touch screen together with the integrated receipt printer, readers and barcode scanners for items and cards are designed in one compact stylish high-quality housing, and therefore easy to relocate in a library.
Design and functionality
The ergonomic design, the use of sustainable materials and the capacitive touch panel guarantee perfect use of the Dialoc ID self service units.